What Are the Best Social Media Management Tools?
Here are my top picks for the top Social Media Platform Tools to try.
1. Buffer.
The Best Platform for Successful Social Media Management.
If you're looking for the best overall social media management tool, Buffer is an excellent option. It's an all-in-one platform that gives you everything you need to grow your online presence. For those who want to grow your audience on socials and beyond, Buffer is an excellent option to save you time and money.



Best For Successful Management
Price $0– $12/channel
Annual Discount Yes
Promotion Sign up for FREE
Try Buffer
Buffer is an intuitive, streamlined social media management platform trusted by small businesses and individuals to help drive meaningful engagement and results on social media.
Key Features:
Buffer will tell you when and what to publish to make your content stand out.

Buffer will share your content on the right channels, with suggested hashtags to help you grow.
Buffer will publish everything for you to save time and it'll showcase your work with automated reports.
With Buffer's permissions levels and approval flows, your team can work freely without any micro-management.

Cons:
Customizing posts is sometimes challenging when bulk posting content

Pricing:
You can test out the system to manage up to 3 channels FREE forever.

When you're ready to move to a paid plan, these are the prices:
Essentials: $6/channel
Team: $12/channel
Agency:

$

120/10 channels
Get Started with Buffer
Try Buffer
2. Hootsuite.
The Simplified Social Media Management Tool
You can pretty much monitor multiple accounts and keywords, connect with over 35 social networks, and bulk-schedule social media posts using Hootsuite.



Best For All in one management
Price From $99
Annual Discount Yes
Promotion 30 Day Free Trial
Try Hootsuite
Hootsuite, probably the biggest social media management tool, is used by over 18 million people and more than eight hundred Fortune 1000 companies. There's a good reason for their success: it's an all-in-one platform that allows you to curate and schedule content, measure your social ROI, run social media ads, and more.
Hootsuite is awesome for planning out social media posts and it's great if you run multiple social media accounts for your business.

Key Features:
Light up your Profiles: Schedule and publish content to all of your social profiles, track effectiveness in real time, and crank the volume on your top-performing content.

Hootsuite is an

awesome platform for planning out social media posts.

Plan Your Content with Ease: View all of your social media content in one calendar. Easily see all your scheduled and published content, create new posts, and organize existing ones.
Stay on Top of Trends: Set up customizable streams that let you monitor trends and stay notified about your business, customers, competitors, or any topic that you're curious about.
Post on Time Every-time: Get actionable insights on the best times to post without the heavy data crunching.
Cons:
Customizing posts is sometimes challenging when bulk posting content

Pricing: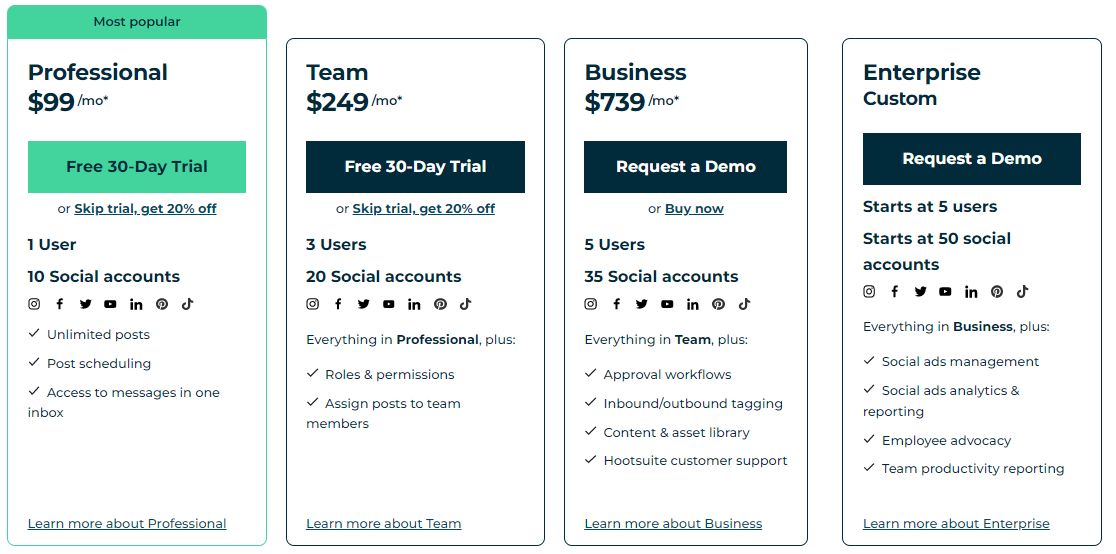 Here is a comparison of Hootsuite pricing plans:
Professional:

$99 - 1 user

Team: $249 - 3 users
Business:

$739 - 5 users

Enterprise Custom: Starts at 5 users
Get Started with Hootsuite
Try Hootsuite
3. Sendible.
Sendible is a social media management tool built specifically for agencies with several clients. On top of most features that social media management tools provide, Sendible allows you to customize your dashboard according to your branding to attract new clients.




Best For Built for Agencies
Price $29 - $199
Promotion 14 day Free Trial
Try Sendible
Built for Agencies: With pricing that scales to boost your revenue and a brandable platform that lets you focus on being creative while outperforming the competition.
Loved by Brands: Invest in a reliable tool that maximises your social media reach, stays on top of audience interactions, and sources fresh content.
Key Features:
Direct scheduling: Schedule a month's worth of content in minutes with our bulk importer and tailor posts with profile tags, locations, and hashtags.
An ocean of post ideas: Quickly source engaging content using our holiday calendar, content suggestions, automated RSS feeds, and Google Alerts.

Content customisation: Add visuals from GIPHY, Pexels, or Canva and customise them per platform with our built-in image editor.
Collaboration with clients: Onboard clients securely into their own dashboards without sharing passwords and make the most of their time with in-app approvals.
Reports & trends: Showcase your results with automated reports. Get an overview of your best-performing posts to further inform your strategy.
Audience engagement: Respond quickly to audience comments, direct messages, and mentions in a centralised inbox, so you never miss a beat.

Cons:
Pricing: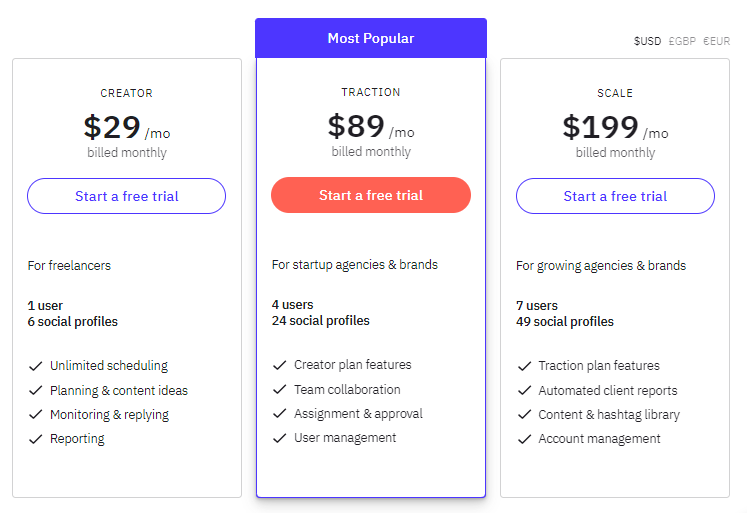 You can try All Sendible plans, which include a free 14-day trial.
When you're ready to move to a paid plan, these are the prices:
Creator: $29 - 1 users
Traction: $89 - 4 users
Scale: $199 - 7 users
Get Started with Sendible
Try Sendible
4. Agora Pulse.
Agora Pulse is an easy-to-use solution, loaded with powerful features and everything you need to dominate social media. Also fortified with the industry's #1 rated customer support, its definitely worth it.




Best For Simplified Management
Price $0 - $119
Annual Discount Yes
Promotion Free for 30 days
Try Agora Pulse
Like the social media management platforms mentioned above, Agora Pulse is also an all-in-one social media platform with scheduling, responding, and reporting features.

Key Features:
Unified Social inbox: Easily manage all your incoming social media messages, comments, and reviews in one place.
Insightful Analytics: Create beautiful and actionable reports that reveal what's working and what isn't.
Intuitive Publishing: Plan, collaborate, and schedule content for all your social channels.
Social Media ROI: Easily see what posts and conversations are driving sales, leads, and traffic. Without being a Google Analytics expert.
Social Listening: Discover trends and insights about your brand and your competitors.
Cons:
Pricing: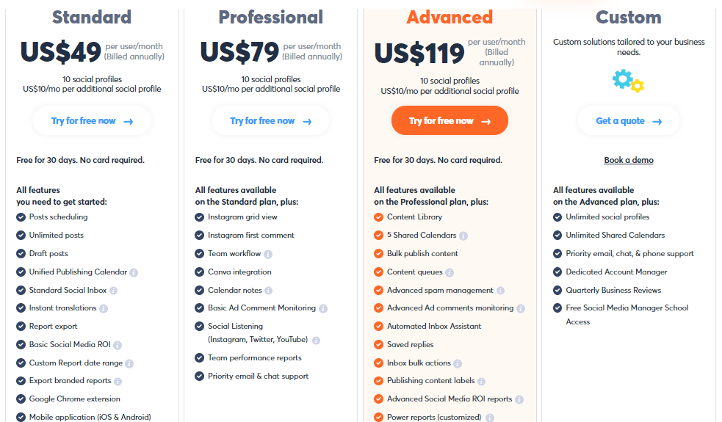 You can try Agora Pulse Free for 30 days, no credit card required.
When you're ready to move to a paid plan, these are the prices:
Standard: $49/user
Professional: $79/user
Advanced: $119/user
Custom Solutions Tailored to your Needs
Get Started with Agora Pulse
Try Agora Pulse
What Are Social Media Management Tools?
Social media management tools are designed to automate most of your social media management strategy. This includes scheduling posts, collaborating with your marketing team, creating marketing campaigns, and monitoring all of your accounts in one place.
Leveraging one of these SaaS tools is a great way to amplify your social media efforts and promote the content you produce.
These tools help you with all the following tasks:
Reaching out to your core audience.
Gleaning actionable insights to help you identify your strengths and weaknesses.
Streamlining workflows to save time and effort.
Scheduling and sharing your social media content on different channels.
Engaging in social media monitoring and replying to comments and posts.
Social Media Management Software FAQ.
What are social media management tools? Social media management tools are a big part of managing social media at scale. Once a brand (or influencer) get's multiple large accounts it becomes a lot to manage without using a social media management tool.
What is the best free social media management tool? The best free social media management tool is Later which has a feature-packed free plan that can handle most of your social media posts for your brand or personal accounts.
What are the major tools of media management? The major social media management platform tools are Buffer, Hootsuite, and Crowdfire. These tools will cover most of your social media marketing needs for solo businesses or even large corporations.
What is SSO important in social media management? SSO is the ability to access all social media accounts using a single login. For example, if you manage Twitter, Google+, Instagram, and Pinterest accounts from one place, this will reduce the time to publish content. The right SSO provider will ensure you are able to use the same password for all social media sites.

Summary.
Social media offers an instant reach to nearly half of the global population, which is a big deal.
As quoted by David Alston, a repeat tech and marketing startup entrepreneur, 'Social media is not a media. The key is to listen, engage, and build relationships.
Before choosing the best piece of marketing software, you need to carefully consider what you hope to achieve with it, and which features would align the best with your business requirements.
For example, if you're a social media influencer and want to make money on Instagram, Buffer could be an easy way to schedule more posts. If you're a small business, Crowdfire could be a great tool to grow your social media follower count.
Keeping all these things in mind, try to make the right choice for your business. All the tools mentioned in this list come with a free trial, so you can test out their features before making your final decision.
Have I missed any of your favorites on this list? Which of these tools are you planning to use? Let me know in the comment section below.